CBO & CCO Message

Memories are moments that last forever. And at Rezidor, we aim to transform every ordinary moment into somethingextraordinary to enchant and delight our guests. Creating a memory, that they would
Every company seeks to put their customers at the heart of their business. But we strive to put our customers at the heart of every single thing we do. At Rezidor, there are no 'quick tasks'. Every effort behind the scenes and every chance to interact with our customers is an opportunity to make a lasting impression. So whether we're handing over a key or handling a special request, making a meal or making new friends, we always aim to deliver outstanding hospitality.
Thanks to our fierce commitment to 100% Satisfaction, 2016 was another strong year for Rezidor. The hospitality landscape is shifting fast. Consumer trends, global digital revolution, changing loyalty patterns and the ever-extending power of influencers and social hand-raisers are dramatically altering the face of our industry.
So it's never been more important for us to deliver on our promises - to our customers, our owners and our stakeholders - winning their trust and loyalty, because we know, in hospitality, every moment matters. We continue to invest in brand alignment on a global level, ensuring that our customers around the world, experience the same standards of service and product, and that our team members are trained and driven to deliver a memorable experience. Rezidor's Global Sales specialists not only promote single hotels, regions and nations: they also seize every opportunity to cross-promote properties and products across all countries, serving every customer with a truly holistic approach. To drive the business forward, we've created a powerful Revenue Generation (RevGen) wheel to ensure we steer successfully towards a profitable future by fully embracing the shifting dynamics of the modern market and growing our system contribution to 70% by 2020.
THE REVGEN WHEEL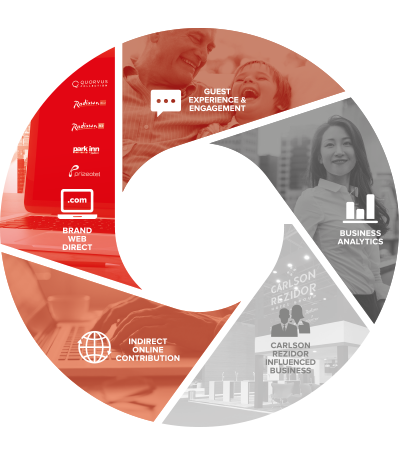 A key driver for our revenue generation strategy, we created a simple, but highly effective, five-spoke REVGEN wheel. It features:
Guest experience & engagement
Brand web direct
Indirect online contribution
Carlson Rezidor influenced business
Business analytics
Fueled by a dynamic team of experts in Sales, Revenue Optimization & Distribution, Marketing, Loyalty and Corporate Communications, PR & Reputation Management, Rezidor is pursuing a wide range of carefully considered initiatives to constantly improve brand awareness, customer loyalty and, ultimately, solid financial performance. The five essential components of the RevGen Wheel will turn in-sync to deliver three key priorities:
Drive meetings & events
Capture online business
Leverage loyalty & engagement
Join me on a journey, and see the best of Carlson Rezidor Hotel Group, its brilliant hotel brands and its Yes I Can! spirited people. With a new largest shareholder, HNA Group Co., Ltd., a Fortune Global 500 company with 200,000 employees and nearly $100 billion in assets – the group is drawing on its great history and heritage to achieve even greater success. We will continue to initiate many vital and innovative commercial changes to create a whole new level of growth and profitability – and a winning commercial strategy.
Above all, through our passion, creativity and our dedication to go above and beyond our guests' expectations, we will make every moment matter. And we will transform moments into memories our customers will want to relive. Again and again…