Quorvus Collection

Welcome To An Exceptional World
Quorvus Collection is a modern take on the luxury way of life. Inspired by the sensibilities of the contemporary global traveler, into every hotel in woven the distinctive character of its local culture.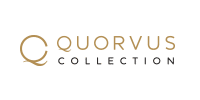 A collection of the world's finest Modern Luxury hotels, with Quorvus Collection we have set about to change the elite global traveler's landscape. Committed to celebrating and enhancing the individual luster of each member property, so Quorvus Collection brings the Eidos of its locations – the "distinctive character of culture"– vividly to life. As our portfolio grows so too does our influence, and the brand activities currently in motion speak of a bold ambition.
Leveraging the unique quality of our people, properties and perspective, the development of a content-rich digital presence remains a major focus for the brand. Most notably, all-new web and app platforms provide an elegant showcase for the portfolio – while a forthcoming social media expansion and VR movie will capture our immersive, local experiences in exciting, new ways. Quorvus Collection also continues to keep pace with the aspirational lifestyles of the Modern Luxury traveler. And as Q24 ensures our hotels stay firmly ahead of the industry benchmark (in services and amenities), our new responsible business focus and brand hallmarks offer a truly uncommon experience of luxury.