Welcome to something new.
We connect with that ageless millennial mindset and believe that hotels can enhance their world via art, music, fashion and a distinctive connection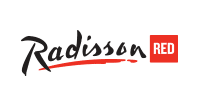 FOR THE CONFIDENT, THE CURIOUS, THE COUNTER-CULTURE
Radisson RED is so much more than a whole new brand… it takes Carlson Rezidor into a whole new category of hospitality – Lifestyle Select. With RED we've invented a bold, fresh hotel experience that will totally resonate with the ageless millennial mindset.
RED loves technology – but we're also big on fashion, music and art. And we curate each property with its own personality, reflecting the very best of each destination, injecting true soul and relevance.
NO RULES, NO BOUNDARIES
The RED cast is made up of real people – who care about the guest, not the process. And we're here to share our great local connections, making your visit just right for you.
Our technology is all about you, too: easy to use and superfast. RED's stylish studios are simply designed to make you feel good. The social spaces are draw-you-in, do-what-you-want places. Games, art, music – or just lounge about. The food in Ouibar + KTCHN is local, fresh, super fast and delicious. The Meet Event Studios are spaces in which to be serious. Or slightly less so – whatever...
Work. Sleep. Eat. Drink. Play. Your choice.
A GLOBAL DREAM
Radisson RED made its debut in Brussels in April 2016 with new projects under development in Glasgow and Cape Town. Working with Carlson Rezidor, RED's global growth dream is for 60 hotels in 60 cities by 2020.