Think People commitments
Employee satisfaction:
Maintain the employee satisfaction score above 86%.
Fairtrade:
Increase the percentage of hotels offering fair-trade products to 50%.
With operations in 70 countries, keeping hotel guests and staff safe in sometimes risky local situations is an essential part of our business. We 'Always care!' by involving every employee at every level of the company in maintaining a safe and secure environment for everybody.
Responsible business also incorporates caring for the health of guests and employees. We do so by only offering our guests environmentally friendly amenities, increasing the number of non-smoking rooms and promoting the use of seasonal and local produce in our restaurants.
We believe in promoting our staff from within and we are committed to develop each employee to their full potential.
Highlights: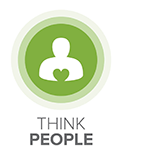 120 safehotels alliance certified hotels
2,050 People trained in our Business School in 2015
Since 2008 Responsible Business training for all staff.
Employee satisfaction remains high at 87.5%.Rezidor becomes lead partner of the Youth Career Initiative.
Our stories:
Yes I Can! goes
beyond Rezidor
Educating young people
for work and for life
Brain Food for
smart thinking
Story 1: Rezidor's Yes I Can! Ethos Fuels Peugeot and Citroën's Podium
Rezidor's ever-growing global reputation for exceptional Yes I Can! customer service has led to a ground-breaking new partnership. During 2012, Rezidor was invited to share our unique Yes I Can! service philosophy and 100% Guest Satisfaction Guarantee at Podium. Launched by the zonefranche agency, the Podium workshops provide Peugeot and Citroën with an opportunity to coach their European distributors and zone managers in world class, flawless customer service.
Yes I Can! – three little words that make a world of difference. Three little words that have always been so much more than just a slogan for all Rezidorians. Yes I Can! is our connecting ethos, the driving philosophy that informs everything we do, everywhere in the world, 24/7.
Yes I Can! has played a major part in Rezidor's success. And word is spreading, well beyond the world of hospitality.
As part of the cooperation, Peugeot and Citroën hosted a series of intensive Podium workshops at Radisson Blu hotels across Europe. Experienced Rezidor managers participated as guest speakers, promoting the effectiveness of our Yes I Can! values. In total, six one-day training sessions were organised for Peugeot and Citroën distributors and zone managers.
"Peugeot and Citroën are particularly impressed by our 100% Guest Satisfaction Guarantee," explains Jan Spooren, Rezidor's Director, People Development. "Radisson Blu Hotels and Resorts are a premium hotel business, not so different from a car dealership. It requires intense focus – every minute of the day – on delivering the brand promise, attention to detail, maintaining the highest standards of product and service, personal relationships with guests, service with a smile, being host... the list is endless."
Story 2: Educating young people for work and for life
In many countries around the world – including both developed and developing nations – youth unemployment remains extremely high; far higher than other age groups in the population.
Globally the hospitality industry is almost uniquely placed to tackle this issue. With hotels often placed near disadvantaged communities but able to offer ground level employment opportunities to local people, with genuine career paths and prospects to climb the ladder, they can offer real hope to young people and their families. Youth Career Initiative, a 24-week life and work skills programme, connects the hotel industry and the group of underprivileged youngsters. To date the YCI programme has benefited about 2,400 students in 12 countries.
Rezidor hotels in 4 countries have trained youngsters in the past years. The most recent graduation ceremony was in the Radisson Blu Hotel Addis Ababa. Two of the YCI graduates are now employed in the hotel. Stephen Farrant, Director of the International Tourism Partnership, comments: 'We have had the pleasure of welcoming Rezidor as a new lead partner for YCI in 2013. The partnership will allow for a faster and easier roll-out of the YCI training cycles to more countries."
These transformative opportunities, offering both classroom-based and on-the-job training, often spark a real passion for the hospitality trade. Each young person reached can aspire to greater economic prosperity, for them and for their families, and become a role model in their community through their employment or further studies. Building on the success of existing country programmes YCI wishes to expand this important education and employability initiative within the hospitality industry through the introduction of a new franchised model. Its aim is to train over 650 young people per year by 2015.
Story 3: Brain Food for smart thinking
Brain Food is an exciting new nutritional formula - specially designed for meetings and conferences - and developed by our Danish hotels, in close co-operation with Christian Bitz. The formula helps ensure that all those attending a meeting remain energised and alert throughout. Our chefs prepare dishes designed to keep blood sugar levels stable and to provide optimal cerebral nutrition, ensuring that participants enjoy a high degree of brain activity and reactivity.
Fresh, locally sourced ingredients are the most effective. They also taste fantastic and are best for the environment. So naturally, they form the basis of our delicious Brain Food menu!